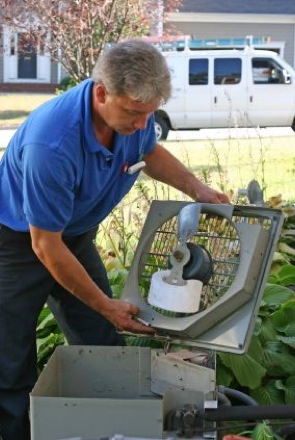 Austin Air Conditioning Repair
Gold Eagle Services works to keep your Austin area home comfortable when it's hot outside. Our highly trained technicians provide fast, quality air conditioning repair services when you need it most.
We specialize in fast, quality air conditioning repairs to keep you and your family cool when the weather is hot outside. We repair a large variety of HVAC systems, including:
Central Air Conditioning

Ductless Mini Split Air Conditioners

Air Cleaners & Filters

Thermostats

Hybrid Systems

And Much More!
Many air conditioning issues can be easily repaired and your Austin area home will be back to normal. If you are having reoccurring issues with your air conditioner, it may be a sign of a larger problem . When your air conditioning system breaks down, it's tempting just to quickly pay for the cheapest repairs to get it up and running again. That may seem the least expensive route now, but it may not offer the most value in the long run, depending on the age of your air conditioning system, its repair history, and other factors.
If you are having reoccurring problems, ask one of the highly trained Austin HVAC technicians at Gold Eagle Services about your options regarding an updated air conditioning systems.
Contact Gold Eagle Services today at 512-817-2219 to receive an estimate for your Austin area air conditioning repair needs.